STATUS
Under Construction
almia is a characteristic plant that exists in the Cycladic landscape since ancient times. It thrives in coastal areas, withstands salinity, calcareous soils like that of Milos and strong winds.
Alimia located in northest part of Milos island, attempts to integrate the different spatial and morphological elements that compose the typical Cycladic settlement, so that the experience of the space does not differ from that of the Cycladic village-settlement. The goal behind this thinking and attitude is to preserve the character of the traditional Cycladic topos, in the rapid increase and development of tourist accommodation, which carries risks of altering the Cycladic character, This will be achieved through the spatial redefinition of the elements that compose the local settlements.
The diversity of the settlements in perspective, due to the steep territorial slopes, as one perceives it while looking at the island from the approaching boat, the seemingly anarchic structure of the Cycladic settlements, as one perceives it while walking through the settlement, the narrow Cycladic cobblestones that cross the settlements , the Cycladic courtyards, which are the thresholds of the houses and the most characteristic spatial expression of the Mediterranean region, the built benches in the courtyards and on the cobblestones which compose the space for standing and socializing and the large square which is the characteristic public space of the settlement– the meeting point, the place of socialization and social expression, all these are the qualities of space that are integrated in Alimia, creating the design composition, which is formed in three altitude zones.
The materials used are white plaster, wood and the traditional Cycladic stone, which aim to integrate the spatial composition in its entirety, into the landscape. An attempt was made to incorporate all the characteristic elements of the Cycladic house,even on the smallest scale-the interior. From the typology of the accommodation, which is a redefinition of the Cycladic narrow-fronted ground-floor single rooms,(< στενομέτωπων ισόγειων μονόχωρων ) and the narrow-fronted double-storeyed houses (<στενομέτωπων διώροφων δωματοσκέπαστων) up to the interior dominated by custom built furniture and recesses in the walls, which refer to the cavernous character of Milos.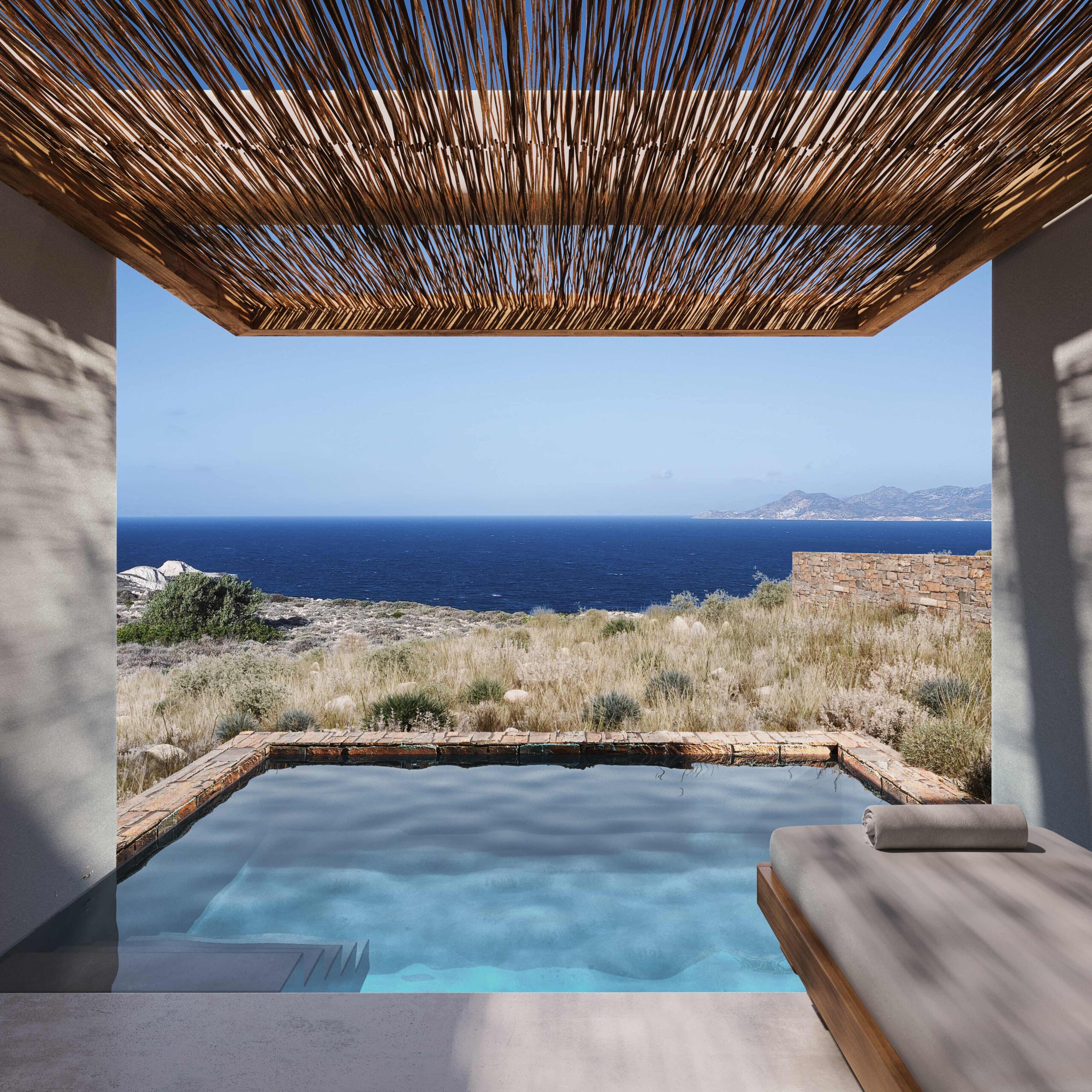 More Projects